Foremost Farms produces millions of pounds of cheese, butter, whey and milk protein ingredients to serve our customers in our eight-plant network and our headquarters location.
CHEESE PLANT
APPLETON, WI
The Appleton plant makes cheeses and dairy ingredients for some of the world's most recognized brands in both retail and food service channels.
The Clayton plant is our northern-most location and was built in the 1930s. Over the years, it has received many awards for different styles of cheese.
DAIRY CAMPUS
GREENVILLE, MI
The Greenville Dairy Campus was built on 96 acres in 2018. The facility supplies cream, RO skim milk and custom blends for processing.
CHEESE PLANT
LANCASTER, WI
The Lancaster plant produces award-winning 640-pound blocks of cheddar, destined for customers who cut the blocks into consumer sized portions and dry dairy ingredients.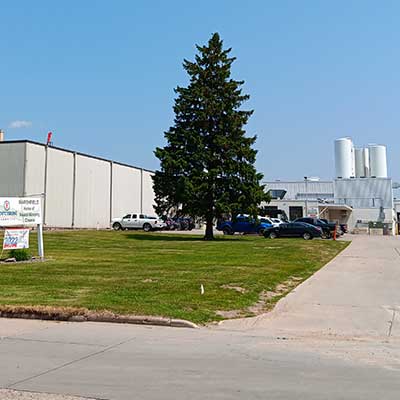 CHEESE PLANT
MARSHFIELD, WI
The Marshfield plant produces premium award-winning cheeses for food service and cut-and-wrap customers. Foremost Farm's well-known 1950 127 Brand® originated with Marshfield's state-assigned plant (1950) and cheese grader's (127) numbers.
BUTTER PLANT
REEDSBURG, WI
The Reedsburg butter plant was constructed in 1914. Today's modern plant produces high-quality butter in retail and bulk packing options.
CHEESE PLANT
RICHLAND CENTER, WI
The Richland Center plant was built in the 1940s and makes cheeses and value-added whey products for some of the world's most recognized brands.
DAIRY INGREDIENT PLANT
SPARTA, WI
The Sparta plant condenses milk for our cheese operations or dries ingredients from whey, depending on customer demand. It supplies a wide variety of dairy products and ingredients.
HEADQUARTERS
MIDDLETON, WI
The Middleton headquarters is located in the Wisconsin Trade Center and features a culinary and innovation space to better serve customers, and an open-concept office layout to allow employees to easily collaborate with each other.